I am a terrible gift giver. However, I'm fantastic at picking out gifts for myself. And what do I usually want?? All the baking things. With Christmas two weeks away, (TWO WEEKS, PEOPLE) I've finally found a way to put my "distinct" gifting skills to good use. Here are 10 gifts for the baking addict in your life.
---
1. Best-Ever Cupcake Icing Kit
The Best-Ever Cupcake Icing Kit is a great beginner kit, completely affordable, and on trend. What's not to love? This decorating kit gives you 5 different tips along with a pastry bag. You'll be a frosting pro by New Years.
2. Silpats
I got a few Silpats last year for Christmas, and they have been a baking game changer for me. Not only do they prevent everything from cookies to peanut brittle from sticking to my baking sheets, but they also make clean up so easy. For a lazy baker like me, that's priceless.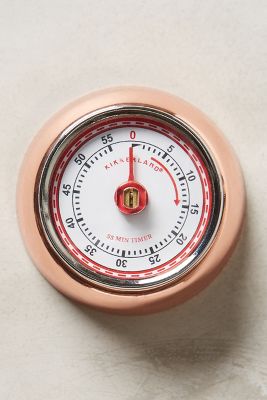 This timer is only available in-store, but it's worth the trip. I bought this exact timer as a birthday present for myself this year. I was tired of using the clock on my phone and subjecting my cell phone to my messy hands. I love the retro feel of a crank timer, and the magnetic back means I can stick it to my fridge, so I never lose track of it in the tornado zone that is my kitchen.
4. Cake Stand
Cake stands literally and figuratively elevate the appearance of your cakes. You go through so much effort to bake, fill, and decorate your cakes why not showcase them in all their glory on a beautiful cake stand? I'm a fan of neutral colored stands with subtle designs. After all, you want people to look at the cake.
5. Cookie Scoop
Why did I wait so long to get a cookie scoop?!? I was lost, but now I'm found. A scoop keeps your hands clean and your portions perfect. Use it when baking cookies, scooping ice cream, or even portioning pancakes. All hail the multi-purpose tool.
Until recently, I didn't even know engraved rolling pins existed. These novelty pins make beautiful patterns on cookies. I'm also interested in how they could transform a top pie crust… Engraved rolling pins: a gift for the baking addict who has everything.
7. Cake Carrier
Getting a cake carrier made traveling with my layered beauties much less stressful. I now go above 10 MPH when I have a cake on board*. Bonus! This cake carrier is super cute (spoiler alert: most aren't).
This isn't the most flashy gift, but it is so, so useful. Since I got it last Christmas, this has become my default paddle. (RIP, original paddle.) It scrapes down even your thickest doughs as it evenly mixes. A functional multi-purpose tool? Check. Perfect for lazy baker? CHECK.
I usually store my cookies in air-tight tupperware. I'm more of a function over form type gal, but who can resist a cookie jar in the shape of the Death Star?? Tractor beam not included.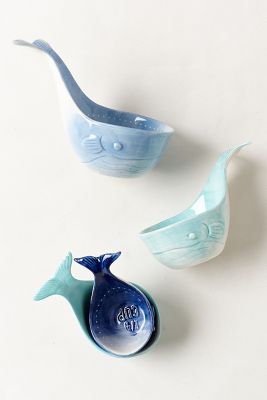 These measuring cups are for the baking addict and the whale lover in your life. I may be the only person in the world who fits that description, so I am obsessed with these measuring cups. A friend got them for me for my birthday two years ago. I love them so much that I feature them prominently on my window sill for all neighbors and potential burglars to see!
*Personal Admission #37: Here's a free million dollar idea. Make a "Cake On Board!" bumper sticker. Having one would've spared me from a lot of honking. Maybe million dollar idea is too strong. I should've opened with here's a thought…
Happy Holidays and Happy Sifting!